Lighting Stands: Elevating Your Photographic Experience
This post may contain affiliate links — Please read our Disclaimer below

Introduction: In the world of photography, the quality of your lighting setup can make or break a shot. It's the art of sculpting light, and for us, it's an integral part of creating memorable images. Our secret weapons in this quest for perfection are the YONGNUO YN360III PRO wand lights, elegantly poised on K&M König & Meyer 26010.500.76 Microphone Stands. This combined review explores how these essential tools have transformed our photography and audio setup.
Setup and Use: One might wonder why microphone stands are paired with lighting equipment. The answer lies in versatility. With a couple of adaptors, we've ingeniously converted these microphone stands into robust and reliable light stands. This adaptation not only maximizes the functionality of our equipment but also adds a touch of unexpected innovation to our setup.
Performance: The K&M König & Meyer 26010.500.76 Microphone Stands, crafted in Germany, embody the principles of quality and durability. These stands not only support microphones but also serve as steadfast companions for our YONGNUO YN360III PRO wand lights. The result? A marriage of performance and aesthetics. The microphone stands, with their adjustable height and round base stability, perfectly complement the sleek white finish of our lighting setup. It's a partnership that enhances both form and function.
Adaptability and Use Cases: In terms of adaptability, these microphone stands have seamlessly transitioned into light stands, demonstrating their flexibility beyond their original purpose. Whether it's for studio shoots, events, or on-location photography, these stands offer the adaptability needed to achieve the perfect lighting angles and positions. Their stability on various surfaces ensures our lighting remains consistent, no matter where we set up.
Pros and Cons:
Pros for K&M König & Meyer 26010.500.76 Microphone Stand:
Professional-Grade Build: Crafted in Germany, these microphone stands exude quality and durability.

Adjustable Height: The flexible height adjustment ensures optimal microphone or lighting placement.

Stability: The round base provides stability even on uneven surfaces.

Elegant White Finish: The white finish adds sophistication to your setup, complementing the aesthetics of our lighting.
Cons:
Price: Quality often comes at a premium, and these products are no exception. Completely worth it.

Weight: While the robust build offers stability, it can also result in a heavier setup compared to more lightweight alternatives. The heavier setup is worth the stability in this case though.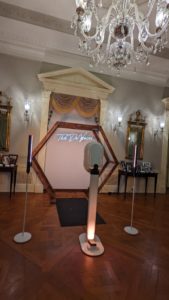 Conclusion: In conclusion, our lighting setup, comprising the YONGNUO YN360III PRO wand lights and K&M König & Meyer 26010.500.76 Microphone Stands, represents a fusion of innovation, quality, and performance. These products, each outstanding in their own right, have come together to elevate our photography and audio experiences. With these tools at your disposal, you can create exceptional images and audio recordings that leave a lasting impression.
Want to add these stands to your booth setup?
Tap to Start Photo Booth is a participant in the Amazon Services LLC Associates Program, an affiliate advertising program designed to provide a means for sites to earn advertising fees by advertising and linking to Amazon.com.