YONGNUO YN360III PRO Wand Lights Review
This post may contain affiliate links — Please read our Disclaimer below
Introduction: Lighting is crucial in the world of photography, and the YONGNUO YN360III PRO wand lights have become our go-to choice for enhancing the quality of images in our photo booth. In this review, we'll dive into their setup, performance, and how they've transformed our business.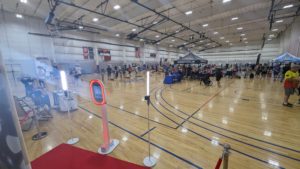 Setup and Use: Pairing these lights with white stands complements our upscale photo booth theme. The adjustable height of the stands allows for precise angle adjustments, ensuring the perfect lighting setup for each event.
Performance: The YN360III PROs deliver exceptional results. Crisp, well-lit photos with improved color quality are the norm when these lights are in action. Battery life has been impressive, with a single charge lasting through even our longest events.
Adaptability and Use Cases: These lights adapt effortlessly to varying lighting conditions, improving photo clarity and quality across different venues and situations. Let me share a few experiences that highlight their adaptability…
Pros and Cons:
Pros:
Impressive brightness

Wireless remote for efficient setup

Cordless operation for safety

Clean and symmetrical aesthetic
Cons:
Brightness can sometimes be overwhelming

Only available in black (considering wrapping them in white)
Tech Specs: The YN360III PRO boasts a CRI of 96+, wide illumination angle, touch-adjusting mode, and 10 special scene supplementary lighting modes. Dual power supply options add to their versatility.
Conclusion: In conclusion, the YONGNUO YN360III PRO wand lights have been a game-changer for our photo booth business. Their adaptability, brightness, and ease of use make them a valuable investment for any photographer or event enthusiast. We highly recommend these lights for elevating the quality of your photos and enhancing your event setup.
Interested in adding these lights to your booth setup?
Adaptors to mount lights to poles here.
Tap to Start Photo Booth is a participant in the Amazon Services LLC Associates Program, an affiliate advertising program designed to provide a means for sites to earn advertising fees by advertising and linking to Amazon.com.